Hey All, time for another installment of What I Ate Wednesday! I'm having one of those off days where I just feel like lazing around. On the bright side, I watched Scott Pilgrim vs. The World today (for my class on comic books). It was actually pretty cute!
But, onto business
Thanks to Jenn @ Peas and Crayons for hosting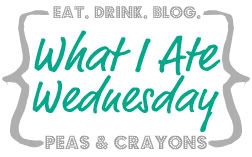 Breakfast:
Yayy, Oatmeal!!! I ran out of bananas last week and I didn't have a chance to get any so I was sans-oatmeal for so long!!!!! But finally I got to have it this morning!
In the bowl: oatmeal, almond butter, banana, almonds, thawed frozen berry mix
Lunch:
This was Tabouleh + veggies+ spicy hummus+ (food for life) brown rice wrap
Snack:
Ok I made this early in the day, but only had a few Quinoa noodles left, so I had a small bit of it and used the rest of the sauce for dinner!
This was Angela's (of Oh She Glows) recipe for Low-Fat Vegan Cheeze Sauce.
It was really easy to make. Basically it has buttery spread, nutritional yeast, flour, almond milk, and spices. I added some peppers, tomatoes, and red onion for extra deliciousness!
The sauce was really good and satisfying, but maybe a little rich. I think next time I might add more veggies and only use the cheeze sauce as a coating.
Dinner:
This was cheeze sauce on a rice dish. I think I has cheeze overload, and I couldn't finish it. I'm gonna take it for lunch tomorrow.
Snack: unpictured: juicy pineapple!
I'm off to do some studying! Have a great night everyone
xoxo Miranda