Hey everybody! I'd thought I'd join the WIAW party this week. Thanks Jenn for hosting!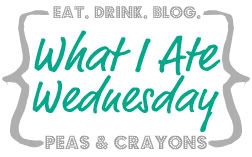 I'm warning you…my meals were so wonky today because I was finishing off this big assignment for school!
Breakfast:
[Note: This is not a Christmas mug!]
My favorite: Stove top steel cut oats+almond milk+mashed banana+almond butter+sliced almonds
and of course, some green tea!
Meal 2: (lunch? Dinner?)
mmm…SPICY!
Yesterday I went to Costco for a few things, and of course I just HAD to stop at one or two all the sampling stations. They were sampling this amazing Thai Coconut Soup. I picked up a package (of 2) and couldn't wait to make it today.
The brand is Happy Planet and this is what it boasts:
Gluten free
Free of preservatives
Contains no trans fat
Cholesterol free
Gluten free
Vegetarian
Dairy free
And here's the ingredient list:
Ingredients: Water, coconut milk (coconut milk, water, guar gum), baby corn, onions, bamboo shoots, tomatoes, carrots, red curry paste, red peppers, green peppers, sunflower oil, galangal, cilantro, lime juice, garlic, sea salt, lemongrass, evaporated cane juice, kaffir lime leaves.
I was really pleased with what I saw. The soup was creamy/sweet/spicy. I think what surprised me the most was that there was no dairy in it! As someone whose system doesn't handle dairy well, it's always appreciated when something is dairy-free… especially when it tastes creamy!
I added a can of navy beans to the pot just to add some more protein. I definitely have to find a recipe for this STAT!
Meal 3: (Dinner? Supper? Snack?)
What I have is red and green peppers+hummus+Mary's Crackers+2 oranges+ chocolate Almond Breeze.
As you can probably guess, I needed something I could throw together in 2 mins or less.
Evening Snack:
This is Activia yogurt+Love Gown granola+2 candy cane cookies+ some tea
I usually don't eat Activia because it's high in sugar but I scored a pack super cheap thanks to a coupon. I really like Activia, but since I get sugar from so many other places in my diet, I have to cut it down where I can.
That being said, I still need to work on cutting down my sugar intake. This, however, is not the season. Hello New year's resolution…
So yesterday I realized I had been miscounting the days til my classes end. I actually forgot to count a day. Which means I have one more day of school than I thought. Yikes! That brings me to 5 more days of classes!
The end cannot come soon enough! I'm ready to get into the Christmas spirit!
(Of course, I did put up some mistletoe today… Bartek hasn't noticed. But he's gonna walk underneath it eventually, and my lips will be ready!)
tata luvs,
xoxo Miranda
Do you plan your Costco trips at lunch so you can take advantage of the samples?